In the dawning age of AI, we wake up to many AI products and automation that promise to revolutionize the industry. The airline industry is not an exception, almost every department knows the updates, but they aren't aware to what extent these advancements can benefit their operations. An automated airline group booking tool can impressively reduce the time taken to generate a group quote from 2 to 5 business working days to 30 mins.
It reduces the number of group revenue managers and group sales desks working to handle the airline group bookings. From 15 employees working on a task to 2-3 people finishing the same workload within hours. This is when you have an end-to-end system where you will have all the real-time data from handling booking requests to an AI-intelligent dashboard.
The proven capabilities are much greater where it can even optimize revenue loss, leakages, and loss in conversion.
Let's dive into what you might not know about automated airline group traffic management.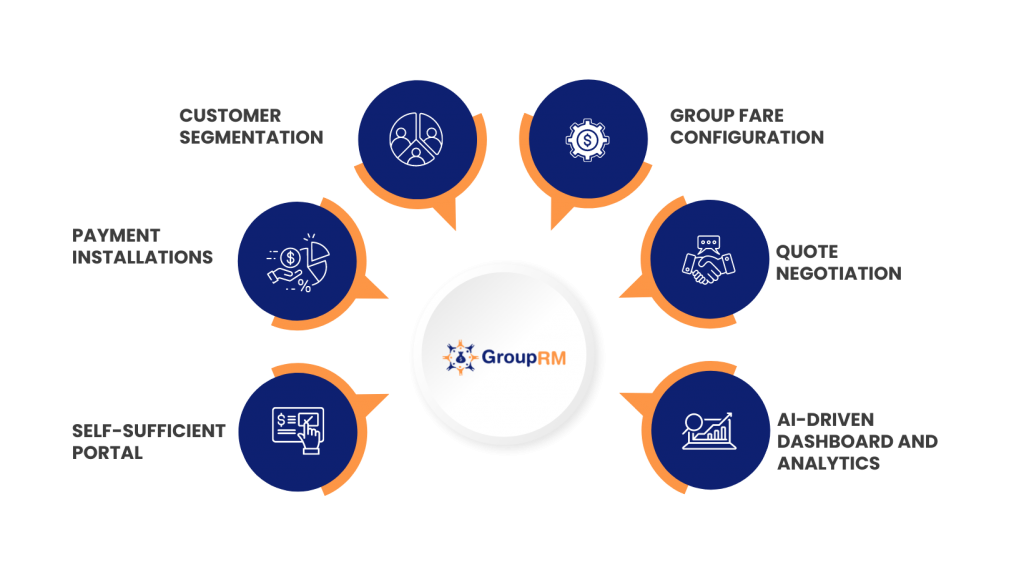 1. Detailed Customer Segmentation
In manual or partially automated systems, the airlines cannot classify their customer segments when their primary communication is only by emails and calls. With ranges of group passengers, typically there are corporate, leisure, government employees, educational, sports, events, religious, tour operators, affinity groups, etc. Everything will be stored in the system and offer real-time insights.
It has the capacity to offer personalized products and make informed decisions for all the tasks from group booking requests to confirmation.
2. Streamlined Payment Installations
It is a full-time, long, and tedious process to track and manage the payments for the group quotations. It gets even more complicated when airlines choose to charge pre-payment for booking reservations or pay in installments. With an automation system, the limits of the global setup can be defined by the admin into 3 types – fare validity, payment validity, and customer validity.
This enhances the overall group booking experience allowing the customer to choose your airlines as it feels more convenient.
3. Self-Sufficient Portal
It is an advanced, intuitive, and self-sufficient system that handles end-to-end group revenue management, from booking requests to confirmation. It is a digital bridge streamlining a clear flow from customers to airline executives. Although some airlines may already have an airline group traffic management system, the value of the software automation system is determined by how advanced the front-end and back-end act to support the airline.
The advanced features are like a spectrum of benefits, from receiving direct sales to having the technical capability to store 10 years of historical data at the backend of all the group bookings.
4. Efficient Group Fare Configuration
As group passengers will be automatically filtered when they raise a quote, airlines can easily apply the fare configuration. Administrators or group revenue managers can easily set up a fare matrix for various quote types, customers, date/time parameters, discount structures, and more within a matter of hours. This is 10x harder in manual systems where the staff has to apply the terms manually.
Automating this process streamlines operations and reduces the potential for errors or inconsistencies.
5. Smooth Quote Negotiation
Airline group quotes typically are open to negotiation if the value of a travel agency is deemed profitable in the long run. The process of negotiation is mostly via emails and calls, where the staff has to check back and forth with a quote. In all truth, the capabilities of an airline revenue manager are maximized with all the real-time data available.
In an automated system, all necessary information such as historical data, market trends, and other factors impacting pricing decisions are consolidated. This not only saves time but also improves the accuracy of negotiated quotes.
6. AI-Driven Dashboard and Analytics
With the absence of real-time reports, the revenue managers may calculate a group quote that fits the best of their knowledge. By providing airline revenue managers with a 360-degree view of real-time data, they can make informed pricing decisions that have a direct impact on the airline's revenue.
Adopt GroupRM – A Market-Leading Airline Group Booking Tool
By reducing the turnaround time of group booking quotes from days to mere minutes, this solution diminishes the need for a large workforce, thereby simplifying the overall booking experience. GroupRM is an advanced airline group booking tool that can help revenue managers efficiently increase airline revenue with informed decision-making.
Schedule a demo with us to know more about our airline revenue management specialized for the group booking system.